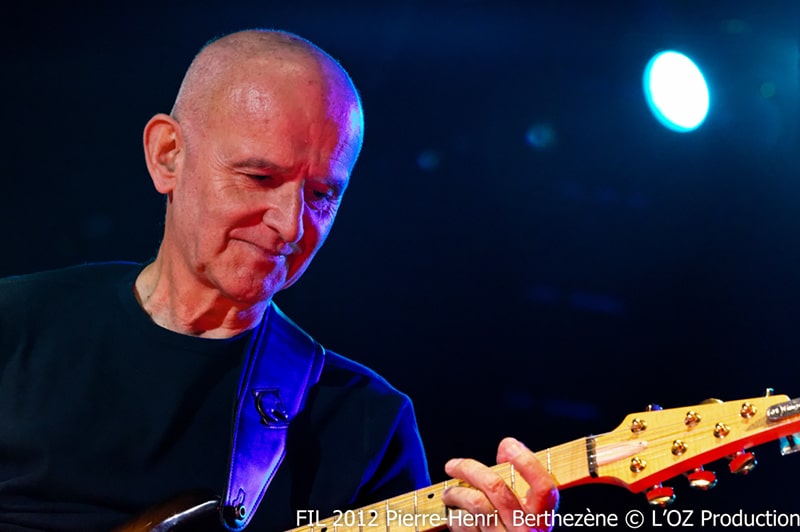 Dan Ar Braz Dan Ar Braz Dan Ar Braz (Daniel Le Bras en français) est né à Quimper (Finistère) en 1949. La légende raconte qu'à 10 ans lors d'une balade en bateau sur les côtes de Bénodet, il entend les échos d'une cornemuse, Dan en garde encore aujourd'hui un souvenir plein d'émotion.
La rencontre avec Stivell
Dans les années soixante, Dan Ar Braz écume les bals de Bretagne et se produit en chantant des classiques du rock. Parallèlement, il fait la connaissance d'Alan Stivell. Cette rencontre est déterminante car Alan le sensibilise aux liens intimes qui existent entre rock et musique celte. C'est en partie sur l'exploration des potentialités qu'offre ce rapprochement que Dan construit sa personnalité musicale.
En 1972, Alan Stivell bretonnise Dan Le Bras en « Dan Ar Bras » sur le mythique album « Live à l'Olympia ». C'est en 1984 que Dan fatigué d'entendre son nom prononcé sans le « S » le remplace par un « Z ».
Les années 70
Dan Ar Braz apporte sa contribution au groupe Mor (mer en breton) et rejoint définitivement Alan Stivell en 1972. En 1976, il rejoint le combo britannique de folk rock Fairport Convention avec lequel il tourne sur les scènes internationales. Il sera l'un des rares artistes français à être accueilli dans le cercle fermé des groupes britanniques.
En 1977, Dan Ar Braz quitte son père spirituel (Alan Stivell) pour voler de ses propres ailes. Il enregistre alors son premier album "Douar Nevez" et enchaîne l'année suivante avec "Allez Dire à la Ville" et « The Earth's Lament » en 1979.
S'en suivent des tournées en solo dans toute l'Europe et tout particulièrement en Angleterre, au Danemark et en Italie, puis aux USA et au Canada. Cet exil sera des plus formateurs et prépare la suite de sa carrière.
Les années 80
En 1982, Dan enregistre « Acoustic », en 1984 « Musiques pour les Silences à Venir » et « Septembre Bleu » en 1987. Dan calme le rythme des tournées à l'étranger et revient vers la Bretagne et la France.
Les années 90
Dans le Studio de son ami anglais Dave Pegg, Dan produit successivement « Borders of Salt », « Suite pour Cornemuse et guitares », « Xavier Grall Chanté par Dan Ar Braz » et « Songs ». Il signe aussi la musique du film d'Olivier Bourbeillon « Rêve de Siam ». Dans ces albums figurent les futurs tubes de L'Héritage des Celtes.
L'Héritage des Celtes
Hommage dédié à la musique celtique, "L'Héritage des Celtes" est créé en 1993 lors du Festival de Cornouaille à Quimper. Dan se produit sur scène accompagné de plus de 70 musiciens. L'année suivante, le concert est reconduit à Rennes.
Le succès est tel que Dan Ar Braz et ses musiciens enregistrent "L'Héritage des Celtes » qui se vendra à plus d'un million d'exemplaires et près de 20 000 cassettes vidéos et DVD. Cette aventure lui rapporte deux victoires de la musique, le grand prix de la Sacem et le mène jusqu'à l'Eurovision en 1996. En 2000, Dan Ar Braz signe le dernier concert de "L'Héritage des Celtes" au Festival Interceltique de Lorient devant 20 000 spectateurs enflammés.
Le nouveau siècle
La naissance du 21ème siècle dessine une nouvelle route à prendre, confirmée par trois magnifiques albums. En 2001, c'est « La Mémoire des Volets Blancs » qu'il rêvait d'enregistrer depuis plus de 15 ans. Deux ans plus tard, « A Toi et à Ceux » sera suivi d'une tournée internationale avec un groupe de 6 musiciens. Guizmo (du groupe Tryo) et Sally Nyolo collaborent à l'enregistrement de l'album « Les Perches du Nil » qui sort lors de la Nuit de la Saint-Patrick à Bercy, premier concert de la tournée 2007/2008.
En 2010, Dan arrange 14 chansons enfantines chantées par la superbe et douce voix de Clarisse Lavanant, « Comptines Celtiques et d'Ailleurs ».
Celebration
Fin 2011, L'OZ Production édite le CD " Bretagnes" extrait des trois derniers albums enregistrés chez Sony. Ses nouvelles compositions apparaissent sur le CD Celebration qui sort en juin 2012. Le public découvre son nouveau groupe lors de la première au Festival Interceltique de Lorient.

Site officiel : www.danarbraz.com